Why do I feel like I'm nothing more than a wife and mom?
I'm in my mid 20s with a husband and children. I love my family, but I feel like I've lost my identity, and I don't know who I am other than a mom and wife. At times, all I can think is what I gave up and how I feel unhappy and trapped, but I know I'd feel like worse without them. I loathe myself at times. I have an amazing life, so why can't I just enjoy it?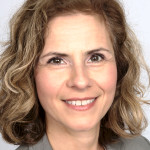 It is not easy being a wife and mother. You have shifted roles in your life. You went from having a career to focusing on your family. Transitioning can be hard, especially when we feel we gave something up that we really wanted. I want to acknowledge you for wanting to be the best wife and mother you can. I think it is great that you are self-aware and want to work on this.
Feeling "unhappy and trapped" may also mean that you are believing these negative thoughts are absolutely true. We have lots and lots of thoughts throughout the day. Sometimes we pay a lot of attention to some and some we ignore. Right now these thoughts are getting a lot of your attention and perhaps you are thinking because you are thinking them they are true. Is it really true that you trapped? You also said that you have an amazing life. It doesn't sound like you are only having negative thoughts. You have some positive ones, too. However, you are giving a lot of weight to the negative thoughts, more weight than the positive ones.
I also wonder if you are struggling with the fact that you are even having this thought. One thing that can be helpful is to recognize that you are having a thought, that it is a negative thought, that thinking it does not make it true, and to let it go. This is the basis for mindfulness work that can be really helpful. It is a great place for you to start so you can balance out your thoughts and emotions.
Best of luck to you!
---
View 4 other answers
More Answers